Festival of the Sound: Quartet Day
One of the key interests driving the curating of this year's Quartet Day (August 1) was capturing the energy of rehearsal. Great rehearsals can happen when you discover something new about music you long thought you understood; when something suddenly clicks; when everyone's pistons are firing at the same pace towards a common goal. Sometimes, it's just the act of searching together — be it in sound or concept — that invigorates. There is an adrenaline that we musicians feel with the freshness of dialogue and at the very moment of discovery. Great rehearsals lead to great concerts, but rehearsals have themselves made up some of the great experiences in music.
This made me wonder what it would be like to bring the audience into the world of the rehearsal. Having attended and given open rehearsals and pre-concert chats alike, it seemed interesting to attempt to illuminate some of these elements from rehearsal to performance (each concert will still have the pieces performed in their entirety at the end).
In open rehearsals, one always wonders what the musicians are working on exactly, what they are thinking, why they are doing it again and what are they listening to? Cecilia Quartet's "Afternoon for Modern Music" features Shostakovich Quartet No. 9 and the beautiful Ravel Quartet. The audience will be treated to the Cecilia's "sound-check", the way they prepare themselves right before a full-blown performance. The twist is that the concert will be "sportscast" by Jeffrey Stokes and James Campbell, who will explain what the Cecilias are working on and why. Think of the live sports coverage we see on television like the PGA Tour and how the colour commentary brings the audience in on the difficulties of a shot, statistics like the wind and grade of the hill, thoughts about which club the athlete is deciding to use. 
Another element that both Quartets value and I wanted to underscore was the entry point we use towards any piece: What was it like to play this music for the first time, to play it to an audience hearing it for the first time, and in the city, culture, and society of that time? 
When one looks at the etymology of the word "rehearse", we see it means "to repeat", from the old French rehercier, meaning literally "to rake, to turn over". In turning something over and contemplating it, I wondered how much the act of rehearsing could be seen as a re-hearing. How can we as musicians make ourselves responsible to re-hear what we know in order to continue to plumb the depths of this music afresh?
These questions are important to us because it means we are as sensitive to the surprises and poignancy of a moment in music as it was intended, as it first occurred, as it would be understood: One cannot quite hear Mozart's Dissonance Quartet with the same expectations on the harmonic language of, say, Schoenberg. It would be like watching a Shakespearean drama expecting its climax to have the scale of explosion found in a futuristic science-fiction movie. This is of course ridiculous, but as an artist, endeavouring to revisit the climate and speed of the times where a work was created helps us see the magnitude of something with the same sense of excitement, surprise, and delight.
To that end, Jeffrey Stokes will be our historic character Anton Kuhnel (who was a contemporary of Prince Esterhazy, the patron of Haydn). He is a friendly ghost that haunts Esterhazy's Palace but somehow finds himself at the Stockey Center after being caught in one of our photographs when we performed at Esterhazy's Palace earlier this summer. In an element of fun and humour, Jeff will entertain, shock, and enlighten the Afiara and Cecilia Quartets as he invades each of our rehearsals as a gruff, wise musician who was there when it all came together. Cecilia Quartet will be playing two Haydn Quartets in the morning, and Afiaras will be performing Beethoven at noon.
In a celebration of the masterworks, Thursday evening will have Afiaras performing Mozart's Dissonance, Cecilias performing Janacek's "Kreutzer Sonata", and, finally, both Quartets united together with Mendelssohn's unmatched String Octet. The entire concert will be further animated by Jeff's slides and commentary on the program's musical relationship with literature like Tolstoy and Goethe.
I hope you will join us for an informal day of fun, discovery, and, yes, rehearsal!
---
Summer's End
This summer has flown by. The craziness really started when the Afiaras landed in Banff in June to record three Beethoven Quartets in five days. This seemed like it would be do-able and, because of our producer and old friend Zak Grafilo of the Alexander String Quartet, it was. I imagine that Zak, who is in the process of editing our CD now, getting a whole lot of Afiara this summer through his headphones, hates us right now. Especially on an "Adrian-Special" where a perfectly good take gets ruined by my heavy breathing.
We stayed on at The Banff Centre to prepare for the upcoming season's repertoire. We had a special opportunity to play Schubert's Cello Quintet with Joel Krosnick while there and the way his bass notes resonated in Rolston Recital Hall was something I will not forget.
From there we flew to teach at Indiana University's Summer String Academy. It was here that I somehow lost my dress pants backstage between two concerts. (We performed in the music festival's Beethoven Quartet Cycle followed by a joint concert with my wife's Cecilia Quartet.) The day of the concert, I discovered them missing, but I figured I'd be able to find them because, honestly, who would want a pair of pants? The answer is: Maybe anyone. So about 20 minutes before the show, desperate because I only have jeans as an alternative, I go around asking male students what size pants they wear. This sounded just as creepy then as it does now.
I discovered the thing about 16-year-old students is they are probably not wearing size 34 pants. I went through a half dozen students asking their pant size, the whole time concocting an explanation from the stage. But then I found him. 16-year-old Chris, a fellow cellist, is a terrific human being who not only had black dress pants, but had the energy and willingness to run back to his dorm to retrieve them in the pouring rain. In fact, he shed his jacket to wrap the pants so they wouldn't get wet, and was soaked head to toe by the time he got back. I thanked him profusely as he and I rushed down the hallway. Only as we were walking side by side did I realize that he was about a head shorter than me.
No matter. I — or, should I say, Chris — already came this far.
I put them on and my wife laughed one of those laughs that produces a thicket of tears. The pants were "skinny pants", which, in a word, means "unflattering". And they cut off shortly after my knee. I pulled up my socks — figuratively and literally — and ran on stage. Chris saved the day.
After Indiana, we had concerts in beautiful Rockport, Maine, where I stopped in Portland for a rushed purchase of black pants that, perhaps to compensate for the capris I had worn the previous night, were a foot longer than they needed to be.
Almost as if in continuing on our trek collaborating with brilliant and venerated musicians this summer, for Rockport's Bay Chamber Concerts, we played Mozart's Clarinet Quintet — our first — with the celebrated, and close friend, James Campbell. Jim has been a special guide now for both the Brahms and the Mozart Clarinet Quintets, as we've performed them both for the first time with him. Jim had done the same with the heroic St. Lawrence String Quartet many years ago, so to be a part of this lineage was humbling for me. We also performed the Schubert Cello Quintet again, but this time with Marc Johnston, cellist of the Vermeer Quartet. Marc's sound and no-fuss music-making made it a special voyage, and I had a wonderful time talking shop with him after rehearsals and during a particularly hearty dinner.
Canadian concerts followed and I cannot tell you how much fun I had as the RBC Stockey Young Artist as Artistic Director for Festival of the Sound in Parry Sound, Ontario. The role had me create and curate several programs involving 14 musicians and introduce the music of my invited Guest Composer in Residence, Dinuk Wijeratne.
In the first concert, I had members in the two quartets (Afiara and Cecilia) play in duets and trios to mix up the chemistry that we knew as separate entities all season. I played Handel-Halvorsen's duet for violin and cello, Passacaglia, for the first time with my wife aka Min aka first violinist of the Cecilia Quartet. Sarah Nematellah, Yuri Cho, and Caitlin Boyle played Dvorak's beautiful Miniatures (Drobnosti). Valerie Li, Rachel Desoer, and David Samuel closed with Dohnanyi's Serenade.
The second concert, we played music by Dinuk — spell-binding music with tabla player, Ed Hanley, Dinuk on piano, and both Quartets playing in two separate works. One was named Garland of Gems which explored the vocalizations associated with tabla playing, as well as featuring the instrument and instrumentalist in some truly virtuosic playing. The Cecilias played in the other work called Karmic Blue, a work of Dinuk's I had wanted to program at least six years ago.
The third concert was a joint concert, where I pondered the idea of last words: What would you say if you knew this was your final work? What would you say? What would you say differently? The Cecilias played Haydn String Quartet Op. 77, No. 2, his last complete quartet, the Afiaras played Sibelius' last string quartet (of which Sibelius said of his quartet, "The kind of thing that brings a smile to your lips at the hour of death") and I asked the Cecilia Quartet to play with Afiara violist David Samuel in the Brahms Viola Quintet Op. 111, which Brahms honestly thought would be his last ("With this letter, you can bid farewell to my music — because it is certainly time to leave off").
The fourth concert was called "Elvis Everywhere" which is based on a zany work by Michael Daugherty of the same name. An idea I was fascinated with was what, exactly, made someone or something "classic"? Elvis and the Beatles both had something that endeared them to audiences much past their time. I marveled that my young pre-teen cousins liked the Beatles and could sing Elvis tunes with an inspired commitment to style and flair. To start, we played a great arrangement of "Hound Dog" I commissioned from my friend and terrific composer, Ryan Brown. To show the spirit of Elvis, who was one of the first to embrace other instruments so further afield like the sitar and ukulele into his recordings, Dinuk's work for piano, clarinet, and tabla — which saw Artistic Director, Jim Campbell, brandish his improvisational chops to an astounding effect — "This Way Up" followed. In this vein of finding an instrument's character and thrusting it into a new collaboration — one set with a similar sense of adventure that Bach, who was global-minded in seeking out different forms and sounds from other countries, gave us his monumental Cello Suites written in the pattern of the French overture, Courante, Bouree, etc., and indeed tackled the new with music for five-string violoncello piccolo in the 6th Suite — the Afiara played Ryan Brown's piece "Extended Family", for string quartet and electric guitar. The timbres and colours that mixed rhythmic hocketing with the incredible energy of bebop made it a great tribute to the spirit of exploration within the integrity of authenticity. Graham then played "Love Me Tender", in a brilliantly improvised way, where he looped several parts live and ended up with a multi-layered, beautiful, near-kaleidoscopic retrospective of the past five minutes. To close, "Elvis Everywhere", where the Afiara Quartet plays with an audio track of three Elvis impersonators singing and cracking jokes. There is a cohesion to this music that brought the whole concert to a close. It's not that Daugherty's work jeers at and belittles Elvis. Watching documentaries of The King, one realizes he was indeed a funny guy's guy and his larger-than-life personality is something as identifiably one-of-a-kind as it is funny. At the end, the singers sing triumphantly that Elvis has left the building, but Elvis is indeed "alive". Alive in the celebration of what made him equal parts sincere artist and timeless star.
The final concert was based on the idea of Friends: Past, Present and Future. I asked the Cecilia Quartet to play with the lively Kerry-Anne Kutz, as I had seen them perform Elvis Costello and Brodsky Quartet's "The Juliet Letters" in Ottawa a few years before. I loved the idea that in Europe, Juliet enjoys a letter-writing fan-base equal to that of North America's Santa Claus. People would write Juliet with questions, concerns, secrets, and even with some tardy advice. The idea of putting forth something in secret and writing to someone fictional, sharing a story you otherwise would not, seemed to captivate the five musicians. In the Juliet Letters are stories that the five musicians weave into music from their own lives. They are at times beautiful and funny, even scary. One is of a little boy singing eerily about his parents who don't love each other anymore. Another is based on a sleazy salesman writing about a once-in-a-lifetime deal. Still another is of the deep regret one feels after a tumultuous break up.
Next, the Afiara and Cecilia teamed up for the Bruch Octet, a rarely performed work that is beautiful in its generosity and romantic vision. It is here that I would tell the audience of how far back some of this eight-member troop goes: Cecilia cellist, Rachel, and I met in the Kiwanis Festival in Hamilton before my voice even changed; I met Cecilia violist, Caitlin Boyle, at 15 at the Southern Ontario Chamber Music Institute (SOCMI); I met Cecilia first violinist my wife, Min-Jeong Koh, that same year at the Toronto Symphony Youth Orchestra; and also in this same orchestra, Afiara violist, David Samuel — though I ultimately noticed Min first (… so the joke goes). David is married to Afiara second violinist, Yuri Cho. I'm married to Min. Valerie's brother is married to my sister… The whole thing could be called "Amongst Friends" as easily as it could be "Ripley's Believe It Or Not: Weird connections in the classical music world."
Last on the program, the Afiara played with British pianist, Martin Roscoe. This collaboration was masterminded by Jim Campbell, but, in the category of "new friends", Martin was unbelievable. I don't remember the last time I had so much fun playing Dvorak's Piano Quintet. It is an incredible work, to be sure, but Martin has this ability to support so completely everything that is going on, it's almost as if he is blessed with mental telepathy. It was an utter treat to play with him and, after the show, we all heartily agreed to see if there might be another opportunity to perform again.
This beautiful world gets smaller everyday, so I can't wait. In that same spirit, I look forward to the next chapter as the summer comes to a close. Thanks to those who made it this far. I've decided to commit to this page so, stay tuned. I'll be writing monthly with news, twists, turns, and concerts.
As long as I can keep track of my pants.
---
Realizations
April went by with many days that were so beautiful, I wondered whether I had walked onto a shoot for Aspen Magazine. Spring is one of my favourite seasons. Actually, it's my second-favourite season. Fall is my favourite season: I like the mild weather, changing colours of leaves, the smell of wood and fires — and the fact that all the mosquitoes are dying very convenient deaths. But Spring is great, too. Especially this one.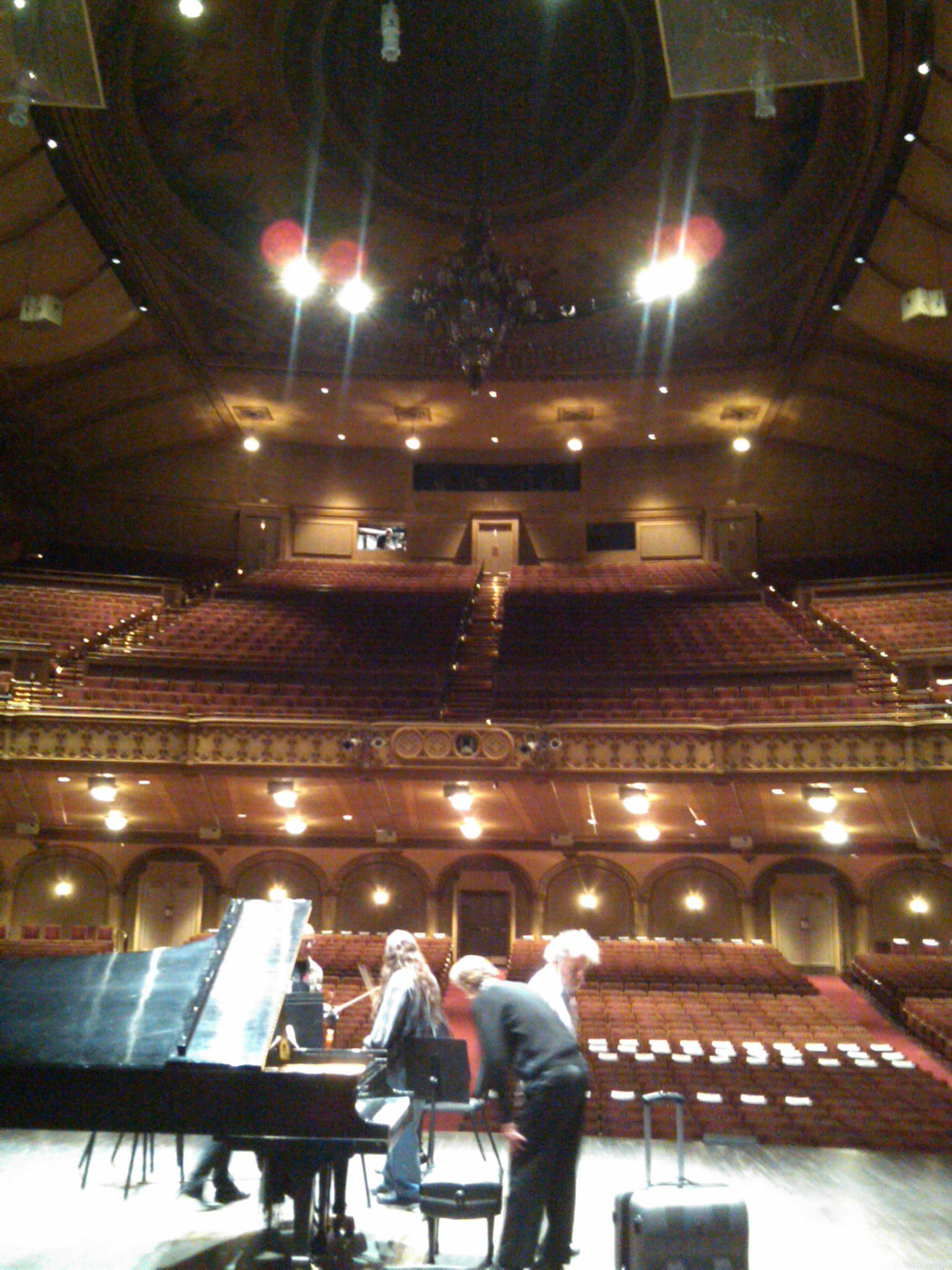 I saw the beauty of New York City's skyline as we played in the Kaplan Penthouse at Lincoln Center before flying to an almost paradisiacal Bay Area, California to teach and perform all over the campus of Stanford University. Vancouver was also beautiful, as was the acoustically brilliant Orpheum Theatre (pictured on the left), and then Toronto was drenched in an unusual sunny disposition. It seemed the sun followed everywhere I went, even to Virginia, before coming back to New York. Some of you will remember Todd Fox, who I visited as I was so close to DC: He remarked every time I've come to DC for various concerts the past three years, DC has had unconventionally good weather.
Though DC is one of my favourite cities, I have to visit it during a rainstorm. It seems to me visiting a city when it's nice out is not unlike going to a restaurant when you're hungry:  You're never sure if the restaurant is really that good or if you're just in a zone where the table cloth would be just as tasty.
But I digress from my realization. The first is this: Nothing kills the productivity of blogging like announcing that you will be blogging regularly. So from now on, no more of that.  Second: Did you realize that "snuck" is not a word? In my most recent blog posting, I used the word and realize that for the past 30 or 40 years, it would have been wrong to do so. Now, it's accepted into common usage. My third, and final realization: If you do something long enough and with confidence, even if it's wrong, the Dictionary may just come by and say, "You know what? You're so wrong, you're now right. Thanks for helping us keep our jobs as we keep publishing these hard-covered New Editions."
---
We're back!
AdrianFung.com goes live, once again, and I'm blessed to have Amos Chan's talent and skills backing me up once more. A true friend and a brother, he was an essential part of the original series and we hope to surpass our past successes with web traffic and reader involvement. The rare reader may remember us from a decade ago — in 2002, when we were getting over 600 visitors daily — so this is a special moment for me.
It has been a whirlwind of a journey since AdrianFung v. 2 and I'm happy to share them with you as the site slowly reveals itself in four stages.
Welcome back, everyone, and here's to another decade with new heights to scale.
---